Jira integration with Conigma™ Connect: flexibility meets efficiency
Blog from 6/23/2021
Please enable videos in our privacy settings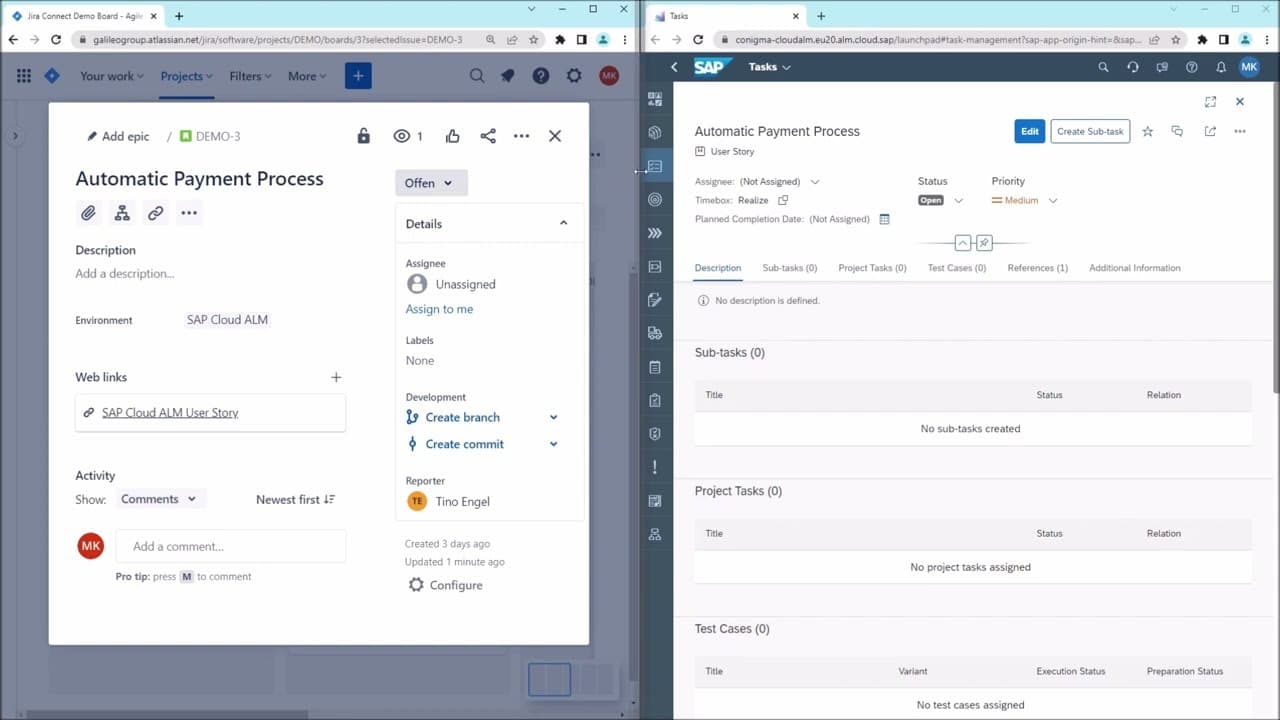 Jira integration with Conigma™ Connect: flexibility meets efficiency
Today, Conigma™ is used by numerous customers as the central tool to control DevOps, Scrum and other methods to improve development quality or shorten development times.
Furthermore, numerous other tools are used in modern enterprise architectures within the framework of best-practices approaches. For example, SAP AG uses Atlassian Jira internally in its custom code development activities on a broad front to orchestrate non-ABAP development activities. If, in addition, customers are also using the SAP cloud platform, tools such as Maven, Jenkins or gCTS (Git-enabled SAP Change and Transport System) are suddenly on board.
Companies that already use Conigma™ CCM alongside Jira, but do not yet know exactly what their future integration requirements will be in the context of a best practices toolchain, are in good hands with the no-code iPaaS solution Conigma™ Connect.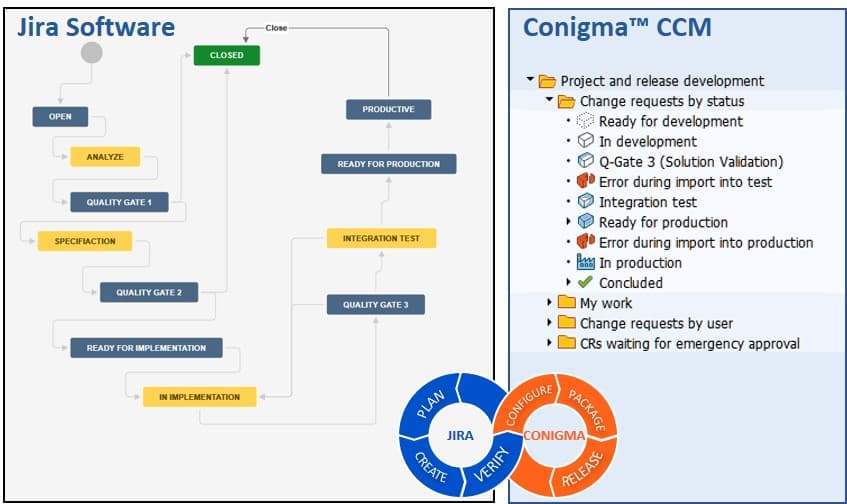 Why our iPaas solution for the integration of Conigma™ CCM?
Work is often planned in Jira and updates on Conigma changes are synchronized from Conigma™ CCM to Jira. On the other hand, information often originates first from Conigma™ CCM (e.g. ad-hoc changes) and is created audit-compliant in Jira during implementation even before testing. Every environment is different and every customer has his own established procedures. Jira backlogs are managed via sprints with Conigma™ Changes, releases lead to many different Conigma™ Changes. These environments are enriched by a lot of customer-specific information, from simple text fields to complex multi-level data structures.
The iPaaS solution Conigma™ Connect offers unlimited possibilities for data exchange at any time in Jira and in the Conigma™ CCM process (synchronous, asynchronous, pre- and post-conditions, push, pull, ...). This includes simple status synchronization and the assignment of Conigma™ CCM changes to Jira releases as well as the exchange of complex roles, TBOMs (= BOMs of transport bundles) or attachments of office files.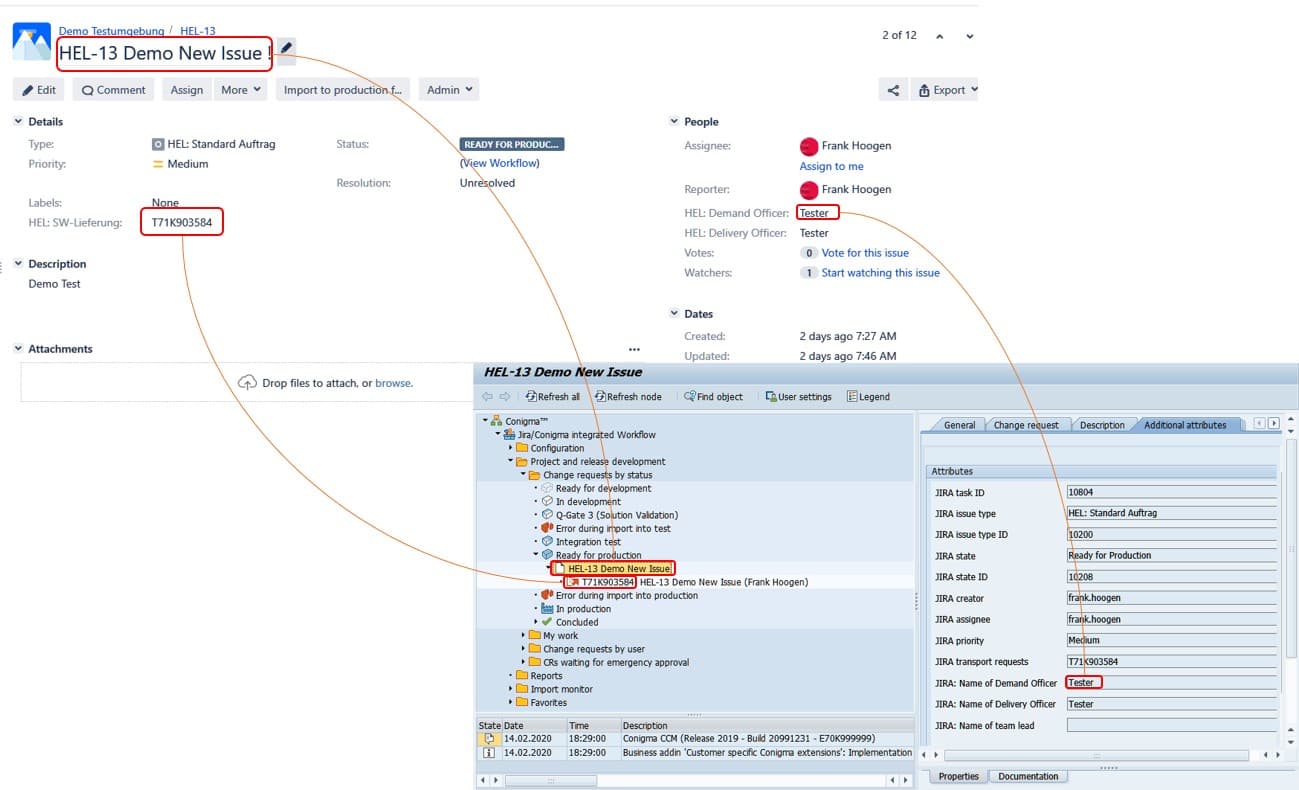 Integration possibilities through our iPaaS solution Conigma™ Connect
Conigma™ Connect does not only use REST APIs and webhooks from Jira, but can also fetch any additional information from Jira using a sophisticated execution engine to schedule pull jobs (many Jira users do not allow webhooks).
Usually there are n:m relationships between Jira tickets and Conigma™ CCM changes, which can be easily mapped with Conigma™ Connect together with the outstandingly flexible customizing of Conigma™ CCM. Customers often start with 1:1 relationships, but in a second step they realize that a single Jira Ticket sometimes leads to two Conigma™ CCM Changes: a hotfix and later a standard Change. In a third step, customers sometimes decide that two overlapping requirements from two Jira tickets should be mapped with a single Conigma™ CCM Change (keyword: smallest testable unit). This is where the n:m relationships mentioned above come into play.
The primary function of integrating Jira with Conigma™ CCM is not only to synchronize fields. Rather, Conigma™ Connect is used to implement any automation and dependencies across tool chains.
Our consultants help to generate quick wins with the help of an agile approach, which then leads to a continuous improvement process. In this way, a Conigma™ Connect iPaaS instance iteratively integrates products like Jira and then, step by step, other third-party providers such as ServiceNow or test automation.
Conigma™ Connect currently works excellently as an on-premise installation. In the future, customers also will fully benefit from the Conigma™ Connect cloud offer.